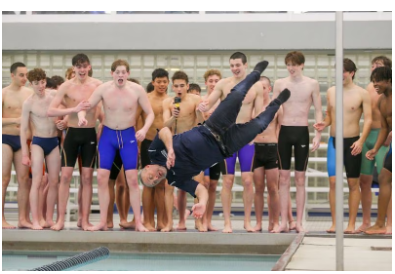 Westfield's Jeff Knight Named Boys State Swimming Coach of the Year by NJ.com
Here is the story by PJ Potter of NJ.com –
In high school athletics, everything matters.
Sure, winning is obviously one of the facets in sports that sticks out the most. But it's not always only about that.
The journey, hard work in practice, overcoming adversity and growing as a unit are all vital to the high school experience.
The Westfield swimming team is a storied program that maintains connection with people all around town, as well as with alumni who won state titles dating back to the 1960s. The collective support and backing of this team, melded with all things aforementioned, matters.
Jeff Knight understands this and does everything he can to ensure his squad is aware that there is so much to take away from just being on this team.
Leading the Blue Devils to the No. 1 spot in the Top 20 Ranking thanks to an incredible three-trophy winter – while creating an all-encompassing and positive atmosphere – has made Jeff Knight this season's NJ.com Boys Swimming Coach of the Year.
"It's an honor. I'm very fortunate to have coached so many great young men in my time. I've been so lucky to have great mentors and learn from them. They really taught me how to lead people and I always try to live up to that," Jeff Knight said.
"A big thing for us here is that we try to have fun along the way and make it a great experience."
This marks Knight's third time winning the award and second as a boys swimming coach.
Westfield came into the winter without a state title since the 2015-16 season. Their eyes were on the ultimate prize, but they knew it would not be easy.
But the Blue Devils, no matter what type of curveball was thrown at them, remained locked in to face any challenge that was presented. They went on to win the Union County meet, North Jersey 2 Group A sectional title and the Group A state championship that ended Cherry Hill East's 56-meet winning streak.
"This year was a win for the team of the past two years. Their drive and dedication made everything possible. We did it together as one and it makes it so special in that regard," Knight said.
The team knew that following last season's state finals loss would cause for adjustments to be made. The graduating seniors, as well as other alumni, rallied behind the squad to instill the belief that they are capable of adding a 27th banner for the school. The mission was clear and Knight knew how to steer the ship.
"When everyone is all in, it makes it that much easier to have them reach their fullest potential. We have such a a great program here and everyone is invested in it. A standard was set before their time and the kids know it. People in this town have cared for so long," Knight said.
Also part of gearing up for a postseason run is navigating a tough regular season schedule. Taking on exceptional Non-Public teams in Christian Brothers and Bergen Catholic prepared them for what lied ahead in the playoffs. Knight also sees it as an opportunity for a lesson in life.
"It just shows that nothing in life will ever come easy. I credit CBA and Bergen Catholic as well for wanting to compete against us in the regular season. It makes all of us better," Knight said.