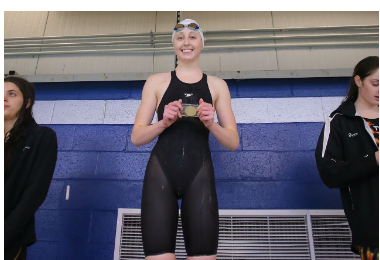 Westfield's Clare Logan was named NJ's Girls' Swimmer of the Year in NJ.com
Here is the story by PJ Potter of NJ.com –
It was another exceptional season for Clare Logan.
The Westfield junior superstar was a major part of keeping her team atop the state as one of the most fearsome squads the past couple of years.
She can be placed in any event and produce a winning time, doing so in all 19 individual dual meet races this winter. Her speed was on full display at the Meet of Champions, donning three first-place finishes to close the door on a memorable year.
She's been among the inner circle of best swimmers since entering high school, and now she stands alone as this season's NJ.com Girls Swimmer of the Year.
"To receive this honor means so much to me and I am really proud of everything I have accomplished this season. I have put in so much time and hard work into this sport and to see that hard work pay off is extremely rewarding. This year, especially, I have worked really hard both in and out of the pool to become the best swimmer I can be and I think that showed in my performances at MOCs," Clare Logan said
"I couldn't be any happier for Clare to receive this honor. Her passion and knowledge for the sport, as well as her commitment to the high school team, makes her stand out," Westfield head coach Steve Whittington said.
Logan brought home two individual golds at the Meet of Champions, winning the 50 freestyle and 100 backstroke each for the second straight season.
She timed out at 23.37 in the 50 free, dropping 0.36 seconds from her clip in the preliminary round. In the backstroke, Logan sizzled to a 53.14 clock out to re-shatter her own MOC record.
"Winning the two individual events at MOCs was definitely a big goal of mine going into the meet. It felt amazing to repeat those wins and break my own meet record in the 100 back," Logan said.
Neither of these races were her favorite of the day, however. She's going to look back most fondly on contributing to the 200 medley relay win to kick off the Meet of Champions, finishing at 1:43.69.
"Although I loved winning those events, winning the medley relay with my teammates was something a little more special. Our medley relay had been so strong all year, so we knew we had a great shot at winning. After losing the state championship, it was great to end the season on a high note with my teammates," Logan said.
She registered a 24.54 in her backstroke split to lead off the race. Emily Constable, Abby Bebel and Brooke McAndrew followed Logan up to etch their spot on the All-State First Team in the 200 MR.
Logan was also a four-time winner at the Union County Championships, posting the best time in the 50 free (23.27) and 100 back (53.37).
She also propelled No. 2 Westfield to wins in the 200 MR (1:46.78) and 400 freestyle relay (3:36.20). She flew to a 22.92 time in her freestyle split of the medley relay and a 49.96 as the anchor in the 400 FR.
"Clare has proven herself to be one of the best female swimmers in the history of the school. She is a game-changing athlete not only because of her speed, but her versatility. As a junior, she has her name next to six school records," Whittington said.
"Her ability to swim so many events at such a high level leaves other teams speculating what she will swim that day."
Logan also won four 50 freestyle races in dual meets and was tabbed to the All-State First Team in this event. She also collected six wins in the backstroke to pave Westfield to a 15-1 season that saw a Union County title, a North Jersey 2, Group A sectional championship and an appearance in the state finals with wins over six teams ranked in the Top 20.
"One thing I will cherish most when I look back on my junior season is how hard we fought to the end. Even though it didn't end up the way we wanted, I think we did everything we could've and I'm extremely proud of my team and everything accomplished," Logan finished.