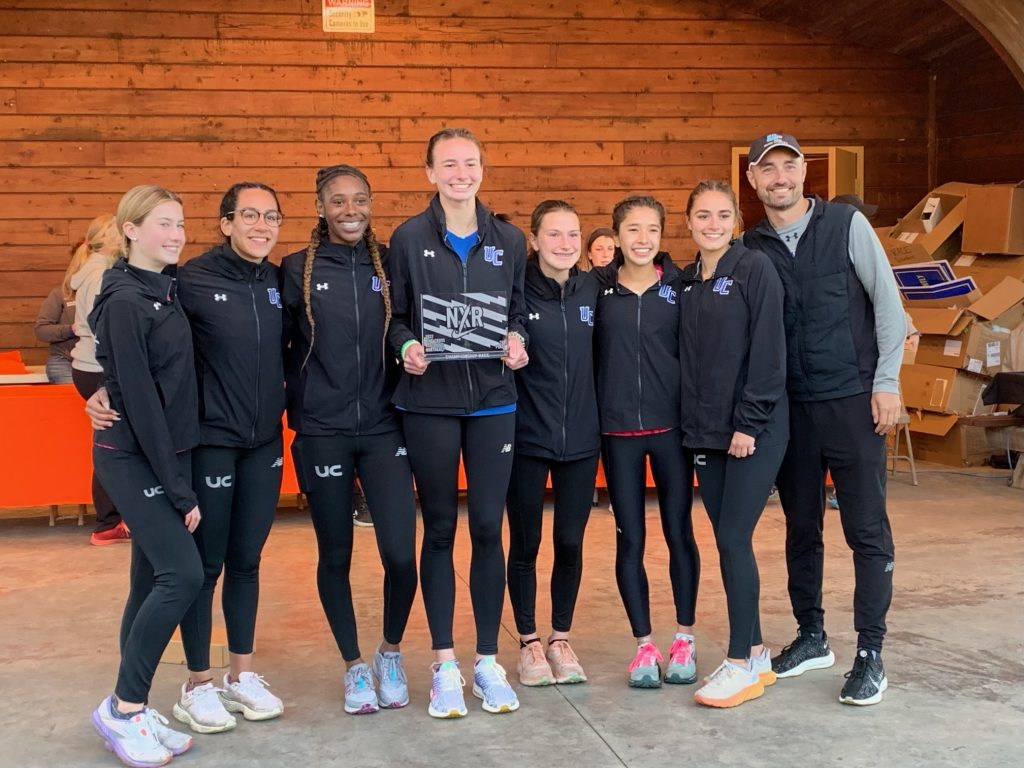 The magical season for the Union Catholic girls cross-country team continued on Saturday when the Vikings finished second at the 15th Nike Northeast Regional Championships at Bowdoin Park in Wappingers Falls, N.Y. to qualify for the National Championships!
In another great battle between the state's top two teams, No 1 ranked Union Catholic edged NJ No. 2 Haddonfield, 71-73 for the second and final automatic qualifying spot in the Nike National Championship race, which is scheduled for this Saturday at the Glendoveer Golf Course in Portland, Oregon. North Allegheny of Pa., ranked No. 30 in the nation, won the race with 23 points.
Union Catholic, which defeated Haddonfield by nine points to win the Meet of Champions title two weeks ago and came into the Regional race undefeated, went 2-3-15-17-34 in the team scoring. Haddonfield countered by going 9-11-12-13-28.
The top five for UC, which averaged 20:03, were senior Kaleigh Gunsiorowski, sixth in 19:09.9, junior Courtney Kaiser, seventh in 19:12.1, freshman Ella Solorzano, 25th in 20:12.1, junior Leilani Gibson, 29th in 20:13.9, and senior Victoria Urbaez, 67th in 21:30.6. Freshman Emmy O'Hearn, UC's No. 4 runner at the M of C, wasn't able to finish due to a sinus infection.
The lethal 1-2 punch of Gunsiorowski and Kaiser, the clutch race by Solorzano, the very strong finish from Gibson, who picked off eight runners over the final 2.5K, and Urbaez's grit added up to give UC its first berth ever at the national championships. And UC did so without its No. 1 runner, junior Peyton Hollis, who suffered a season-ending leg injury in the State Non-Public A race earlier this month.
Gunsiorowski, in just her second year running XC, said earning a spot in the national championship race is a dream come true for her and her teammates.
"To think I played soccer up until just last year and all the opportunities that this sport has offered me is just the biggest blessing, and I'm so happy I get to share this opportunity with my closest friends," said Gunsiorowski. "As a team, today was everything we had ever dreamed of. We knew it would be a challenge, but one we weren't ready to back down from. Before the race, I told the girls that no matter what happened, we had a perfect season and that this race wouldn't have changed that. I'm so incredibly proud of each of these girls, even the girls that didn't race today, but have contributed to the success we experienced throughout the earlier part of the season. This is a dream come true, and we're so excited to drop a Portland bomb."
In the boys race at the Nike NE Regional, Union Catholic, ranked No. 2 in the state and No. 24 nationally, placed a strong sixth with 209 points, and Westfield finished ninth with 301 points. Westfield junior Avery Keith led the charge for the Blue Devils by placing ninth in 16:10, and junior Alex Saldana was the leader of the Union Catholic pack, finishing 14th in 16:20.