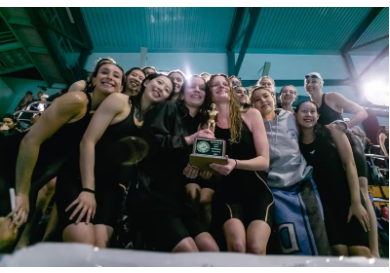 Here is the story by PJ Potter of NJ.com
The Blue Devils did it again.
Westfield, ranked No. 1 in the NJ.com Top 20, notched seven first-place finishes and 411.5 total points to reel in another Union County Championship on Sunday at Rutgers University.
The defending champions broke three records along the way, including the very first race of the afternoon. Lauren Lane, Emily Constable, Abby Bebel and Clare Logan sprinted to a record time of 1:46.78 for the quick win. Logan punched an eye-popping 22.92 timestamp as the anchor of the relay.
"When you walk into a meet, you're always optimistic. You have to see how they're feeling in the water, and fortunately for us, they were feeling quite well from the beginning," Westfield head coach Steve Whittington said.
Logan went on to win the 50 freestyle at 23.27, just 0.07 seconds away from the meet record. She did, however, break her own record in the 100 backstroke at 53.37, almost six seconds quicker than anyone else.
Constable, as well as Logan, found themselves on last season's All-State First Team list. Constable yet again showed why she is the most dominant breaststroker in the state, shattering her previous record with a 1:02.72 clip.
"I was hoping for it [the record], definitely. Breaking it last year just set up the mindset of doing it again to show that I continue to progress," Constable said.
"Emily fills a spot that very few swimmers can do. You can have great swimmers, but that doesn't always translate to a good breaststroke. So having Emily in one of the last races is a sense of security we're grateful for," Whittington added.
McAndrew scooped the other win for the top-ranked Blue Devils, clocking out at 53.90 in the 100 freestyle, just 0.39 seconds faster than Summit's Cecelia Webb.
"I was just trying to hold on to my qualifying time with the idea of having a good chance at winning the whole thing. I just wanted to be fast," McAndrew said.
McAndrew was also the anchor in Westfield's winning 200 freestyle relay (1:39.50) alongside Abby Bebel, Katherine Li and Constable. McAndrew helped the Blue Devils win the 400 FR (3:36.20) as well next to Lane, Chloe Yu and Logan.
"Brooke is an amazing athlete. Watching her shine today was great, she came through so big for us. I hope teams keep overlooking her," Whittington said.
One of the best matchups of the day came in two races between Kent Place's Lizzy Washburn and Summit's Sidney Arcella. The two superstars, who happen to be close friends, split a win apiece in the 200 individual medley and 100 fly.
Arcella scathed past Washburn by 0.01 seconds in the 200 IM, finishing at 2:04.52 in the closest race of the event.
"Wow, that was so close. What an amazing race and I don't know if I'm posting that time if she isn't swimming in the other lane against me," Arcella said. "I love racing Lizzy. It's always a fun race and provides that extra push."
The swimmers barely caught their breath before jumping back in for the 100 fly. Washburn got the final laugh, winning the race at 55.46 – just over one second faster than Arcella.
"It was amazing going against each other. We've swam one another since we were little and it's unreal seeing her progression since then. I know she always adds a little extra kick in that final 50 of the race. I'm super proud of both us there in those races," Washburn said. "Racing against your friends makes it all the more enjoyable and I knew I had to change my mindset after the loss and wipe the slate clean knowing I could win there."
Scotch Plains-Fanwood's Billie Sherratt was the star in the long-distance races. The junior won the 200 freestyle at 1:51.90 and the 500 free at 4:59.87. She defeated Union Catholic's Bridget Davis by under two seconds in the longest race.
Union County Championship Scores, Girls
1. Westfield – 411.5
2. Summit – 344
3. Union Catholic – 261.5
4. Kent Place – 238
5. Gov. Livingston – 213
6. Scotch Plains-Fanwood – 212
7. Cranford – 124
8. New Providence – 113
9. Oak Knoll – 52
10. Elizabeth – 44
11. Union – 36
12. Johnson – 27
13. Linden – 17
14. Dayton – 7