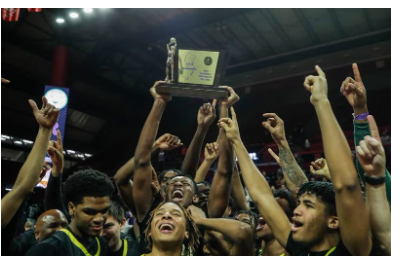 Story by Mike Kinney of NJ.com –
It was made clear even days before the new year that the arc of Roselle Catholic's season would not be determined by its first three games as MaxPrep's No. 1 team nationally among high schools, but how the Lions reacted to those less-than-glowing results.
Highly touted Roselle Catholic, the reigning winner in the final N.J. Tournament of Champions the previous season, would be playing equally talented teams, though with considerably more in-game experience, at the Hoopfest in Paradise in the Bahamas Dec. 16 and 17, and then the Jordan Classic Holiday Classic Dec. 28 in Connecticut.
The Lions squandered a halftime lead against No. 2 Duncanville (Texas), playing its 10th game, 73-58, in the Hoopfest opener, then fell to Sunrise Christian (Kansas), No. 4 among the nation's Academy teams and playing its 11th game.
This was a team, remember, not only with First Team All-Stater Simeon Wilcher back, along with veteran standouts Akil and Tarik Watson (brothers), Christian Pierre-Louis and Rich Brisco, but also senior transfers Mackenie Mgbako (Fist Team All-State in '22 for Gill St. Bernard's) and Sebastian Robinson (Second Team All-State for Elizabeth), and yet RC's slide continued with a Gonzaga (D.C.) team competing its 11th game, 75-66.
How would the Lions deal with this disappointment when a sky that seemed to be their limit was suddenly dark and rainy?
The general synopsis: with remarkable poise and success. But better to leave the finer details to head coach Dave Boff.
"Obviously, it was a rough way to start the season, but I thought the boys handled it as well as they could have, to be honest," he said.
"We've seen in the past with some other teams a start like that can sink your whole season, and we dealt with it as well as I could have asked them to deal with it, and try to continue to keep our eye on the prize of going undefeated in New Jersey and winning a state championship, and let the national-ranking stuff play itself out throughout the year," he said.
Check. Check. And national hopes very still alive on the third point as RC went 21-0 against Garden State competition to raise its in-state winning streak to 44 games, claimed a second straight Union County Tournament crown, and kept those national dreams afloat by wining that third straight Non-Public B title March 3 with a 68-59 victory over St. Rose.
That qualified the Lions, seeded fourth in the six-team field, for the State Champions Invitational April 6-8 at Georgetown University in D.C. Second-ranked Camden also qualified for a national event – The 16-team Throne March 29-April 1 at Morehouse College in Atlanta – bid could not participate in the SC Invitational since the Panthers were disqualified from NJSIAA state tournament play this season.
That is a wonderful bonus for Roselle Catholic, especially after the discontinuation of the T of C after the 2021-22 academic year. The Lions had snapped up their fourth since 2013 last March, and certainly felt well-equipped to make it two in a row and three since 2018.
"For a while there, the kids weren't really sure what they were playing for, but once I explained it to them before the tournament began, I think they had a grasp that they were playing for something very special," Boff said.
"I reminded them that most of the sports in New Jersey never had a T of C," Boff said. "Most of our guys got to experience last year. I feel bad for for some of the other teams who were close last year, but didn't get in and would have qualified this year."
Robinson participated in the T of C last March with 2022 Group 4 winner Elizabeth, but Mgbako's Gill St, Bernard's team never had that chance. But considering where Mgbako was physically as of Jan. 29, he probably feels fortunate to have the opportunity to play in the final three games of the state tournament.
The five-star Duke commit, named to the McDonald's All-American game March 28 in Houston, sustained a serious ankle sprain that day in game against Long Island Lutheran. Later in the first half, Tarik Watson fainted on the floor and was rushed to Long Island Community Hospital, where he underwent a battery of tests. He was released the next day, though not available until Feb. 19, missing seven games. Mgbako would miss 10.
During that critical stretch without Mgbako (team-high 16.2 ppg., 9.1 rpg., 1.5 bpg.), Roselle Catholic played such national Florida prep powerhouses as Calvary Christian (Fla.) and Montverde, and also had challenging battles against Hudson Catholic, Union Catholic, Linden in the UCT final (a 64-55 victory) and Morris Catholic in the first round of the North, Non-Public B tournament.
Without the hard-nosed Watson in the lineup for six games and Mgbako's brilliant overall talent unavailable, others would have to adopt and embrace adjusted roles. They did, and Roselle Catholic went 9-1, losing only to Montverde, 84-62.
The North Carolina-bound Wilcher had performed more as a facilitator than he did last year, and averaged 14.3 ppg. in the first 14 games with Mgbako in the lineup. He dropped in 16.6 ppg. in the 10 games without Mgbako while Akil Watson averaged 14.7 (up from 12.2) and Robinson was at 13.3 (up from 9.0). More scoring responsibilities were thrust upon Brisco and Pierre-Louis and additional playing time also was accorded to freshman forward Ethan Mgbako (Mackenzie's brother) and freshman guard Jalen Grant.
"Really proud of how we handled that; won a lot of big games in that stretch, including a huge national game against Calvary Christian (69-64), who had as much individual talent as any team we played this year," Boff said.
"They just came together, they solidified what they needed to do. We got very focused on the little things, very focused on the details because we knew that we were short some guys. That was probably one of the stretches of the season I'll look back on fondly. Obviously we missed those guys terribly, but a lot of pride in the way the kids handled that.
Tarik Watson made his return in time for the Union County Tournament final, scoring six points and gathering three rebounds in a 64-55 win over Linden. Mgbako came back Feb. 27 for the Lions' North, Non-Public B semifinal against then-No. 5 St. Thomas Aquinas.
He seemed to move with measured caution at times, though still turned in a stat line anyone would be pleased with against a quality opponent with 13 points, eight rebounds and a block. Two nights later, Mgbako was his old self and then some with 26 points, eight rebounds, two assists and two steals in a 71-61 victory against Montclair Immaculate for the North Jersey title.
"He had only practiced two days prior to that (St. Thomas) game; about 50 percent the first day. I was a little concerned how the ankle would respond to full action, but his ability to still put up numbers and still impact the game was there," Boff said.