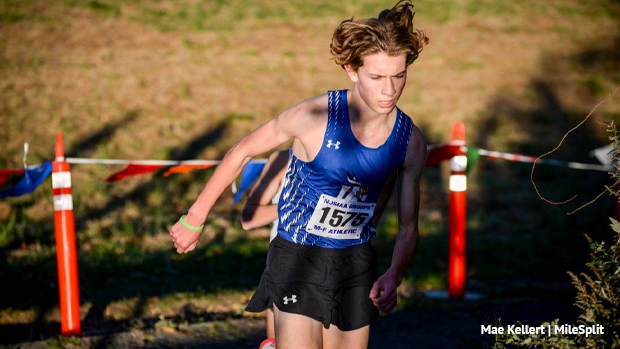 There haven't been very many distance runners in state history who have experienced a meteoric rise quite like Jimmy Wischusen. And I can't think of anyone who orchestrated a better comeback story at the same time!
Wischusen made an amazing leap last fall when he went from finishing second in the freshman race at the Union County Conference Cross-Country Championships in 2020 to becoming the sophomore course record holder at Holmdel Park (15:35 to place fifth and help his team finish first at the Meet of Champions), and the fastest sophomore in the country with the 14:34 he ran at the Running Lane National Championships!
But much like the trails he runs on, Wischusen's sophomore year at Union Catholic had some ups and downs.
After his historic XC season, Wischusen suffered a hip impingement injury that derailed him for nearly the entire indoor season, which sent him on an emotional rollercoaster as he worked feverishly to return to the track.
While understandably disappointed with being sidelined, Wischusen used the setback to fuel his fire to comeback even  stronger and faster!
That's exactly what happened as Wischusen overcame the adversity, and was rewarded for his resiliency as he turned all that frustration into jubilation with a season for the ages in the spring!
Nearly four months after his last race, Wischusen made his eagerly awaited return to racing on April 29th at the prestigious 126th Penn Relays at historic Franklin Field in Philadelphia.
Running the leadoff leg in the distance medley relay, Wischusen delivered a 3:11.44 1,200 leg to set the table perfectly for his teammates, Nick Givan, Myles Plummer and Shane Brosnan. UC went on to win the DMR in 10:14.42 to give the school its first ever wheel, the giant wooden plaque that's awarded to winning relay teams at the Penn Relay. It's one of the most coveted awards that a relay team can achieve in high school track and field.
Following that rust buster, Wischusen's fitness level continued to improve and he got faster and faster and dropped some huge bombs.
After breaking the nine-minute barrier for the first in the 3,200 when he ran 8:59.63 at the Westfield Twilight Invitational, and winning the 3,200 at both the Union County Championships and the Non-Public A Championships, Wischusen capped off his memorable campaign on the same track where it started with an amazing triple at the New Balance National Championships at Franklin Field.
First, Wischusen split 4:14.2 on the anchor leg of the 4xmile squad that equaled the state record with a winning time of 17:12.23. The next day, he stopped the clock at 8:56.41 in the two-mile to take down the NJ sophomore record and place fourth to earn All-American status. Wischusen's 8:56.41 makes him the 12th fastest 3200/2-miler in NJ history, and the ninth fastest sophomore in U.S. history.
The 8:56.41 by Wischusen broke the state soph. mark that was held by the legendary Edward Cheserek of St. Benedict's Prep. Cheserek, who many regard as the best high school distance runner in U.S. history, ran 8:53.65 for 3,200 as a sophomore at the 2011 Essex County Championships, which converts to 8:56.75 for two-miles.
Wischusen finished off his season by running a Union County record 4:09.90 to place ninth in the mile at the NB Nationals, the second fastest time by a sophomore in state history behind Cheserek's 4:03.29.
Coming off his electrifying sophomore year, Wischusen heads into his upcoming junior XC season as the big favorite to win the Meet of Champions title, and with his high octane motor, blue collar work ethic, intestinal fortitude, and unrelenting drive, he certainly has all the tools needed to make a run at several course records this fall.
NJ MileSplit recently caught up with Wischusen in between training and lifeguarding for an in depth Q and A. We learned a lot about him, including what makes him tick, his remarkable knowledge of the history of the sport, his resiliency, how he got involved in running, his training, his thoughts on chasing Cheserek's course record at Holmdel, and a whole lot more.
So lean back in your recliner or beach chair and enjoy our latest installment of Feature Friday as we shine the spotlight on Union Catholic rising junior star Jimmy Wischusen.
NJM: First of all, congrats on all your remarkable accomplishments on the trails and on the track last year. What you did, especially after missing almost the entire indoor season, was just amazing.
With all of your great accomplishments so far, most notably your sophomore course record at Holmdel Park of 15:35, leading off the winning DMR at Penn, anchoring the national champion 4xmile team, and running a state soph. record 8:56.41, what would you say has been the greatest personal achievement in your career so far and why?
You just listed most of them, and I have been lucky enough to run on some awesome relays with my teammates. But it's hard to beat the sophomore course record at Holmdel. To be able to run that fast on that day and take home the team title was seriously one of the coolest things that has ever happened to me, and I will never forget it.
How about for you personally, Jimmy. You went through a tough stretch when you were sidelined for almost the entire indoor season with the hip impingement. How tough was that setback to deal with? Did you ever worry that you wouldn't be able to come back and be the runner you were before the injury?
That whole ordeal was one of the toughest things I have ever gone through. Coming off the cross-country season, I was the fastest sophomore in the country and was so stoked for the winter. But, things didn't go as planned and I got hurt only a couple weeks into the season. To not be able to compete and run for that long was terrible, and I definitely wondered if I was ever going to be the same again. It was a hard three months, but I was able to recover and I have been back on track for a while now. If I could give some advice to anyone dealing with an injury right now, it would be to trust that you will come back stronger then ever, and things won't always be like they are now.
What types of things did you do to recover from the injury, and what types of things are you doing now for injury prevention etc?
I did a lot of physical therapy in strengthening my hips, and I went to the chiropractor to do ART on my hip and stretch it out.
You obviously showed how resilient and driven you are by coming back stronger than ever for the spring season, and dropping those huge PR bombs of 8:56.41 and 4:09.90. What was it like mentally and physically for you to come back so strong, and how surprised were you by the way you came back and the times you ran?
It definitely took a couple races to get back into the groove of things. I wouldn't say I was very surprised with how fast I ran, because every race I just felt better and better. After I ran at Trials Of Miles in NYC and ran 4:12, I knew I was back and ready to run faster. It was definitely mentally taxing leading up to races, but I have gotten a lot better at handling my nerves and anxiety. I am confident in my ability and I trust in my training.
What does it mean to you to break a record held by Edward Cheserek to become the fastest sophomore two-miler in NJ history?
To be mentioned in the same category, and to have run faster then he did is insane to me. He is undoubtedly the best collegiate runner of all time, and it's super cool to work toward what he ran as my goals.
Take me through what summer training has been like for you? How many miles a week have you been running, where have you been doing your long runs, who have you been running with, and did you go to any XC camps etc?
I have been running around 55-60 miles a week which is definitely a step up from anything I have done before. Both my minutes and paces have increased, and we are just focused on building a huge aerobic base. I do majority of my long runs at Holmdel, and I will often do them alone or with some of my teammates.
What's been the biggest difference in your training this summer compared to last summer? Increased mileage? More quality stuff in terms of faster pace etc?
I would say definitely increased mileage/minutes. I am running more then I have ever before in my life, and my workouts have been really fun.
What is your favorite long run (distance and place) during the summer, and what is your favorite workout during the XC season?
My long runs are 90 minutes long and my favorite place to do them is Holmdel of course. I also love River Road, but I haven't gone there too much this summer. My favorite workout during the season is mile repeats. The loop I run for them is awesome.
What do you feel are your greatest strengths as a distance runner? What do you feel has enabled you to run so fast on the trails and on the track? What is the biggest key to all your success?
I would say my greatest strength is my mentality. I don't like to lose and I'm able to put myself through a lot in order to win. I do not break easy, and I am always going to give a full effort.
When is your first race of the season, and what's your goal for that race?
We are still figuring out where I'm going to open, but it's looking like either Bowdoin Classic or Shore Coaches. My goal is to win.
How do you feel heading into this season, Jim? Is this the most fit you've ever been heading into an XC season?
I feel amazing. I am the most aerobically fit I have ever been and I can't wait for the season. It's gonna be tough to beat me.
What are your biggest goals of the season as far as times you'd like to run at Holmdel, Warinanco, Oak Ridge, etc?
I want to set the course records at Warinanco and Oak Ridge, and run under 15 at Holmdel.
As the highest returning finisher from the Meet of Champions (fifth last year,), how much would it mean to you to win your first individual M of C title this season, and what do you feel your chances are of accomplishing that goal?
It would mean everything to me to win MOC. It's something that I think about everyday, and I'm going to make sure it happens. My chances are extremely high, it's going to be really tough to beat me.
What are your thoughts on the course record at Holmdel (14:53 by Cheserek in 2011)? Is making a run at breaking that record this season a goal of yours? Do you feel that's within your reach?
I am always first going for the win in every race I run, and I let the time follow. The course record is for sure a goal of mine and I think I can do it, but I also have two years to do it.
How about Shane Brosnan's course record at Warinanco (15:28). How big of a goal is it for you to break that record at the county meet this season?
It is definitely a goal of mine, and I'm very confident I will be able to do it.
What are your thoughts about qualifying for Eastbay Locker Nationals? How big of a goal is that for you?
Although I would love to run at Eastbay, I doubt I will as my team and I are targeting running at NXR, to make a shot at going to NXN.
How about the team goals this season, Jimmy. After winning the Meet of Champions and finishing the season ranked No. 1 in the state and No. 4 in the country, how strong do you feel the team will be this season?
I think our team has the potential to be better then last year. We have a great group of dudes and our goal is to win MOC,  go to NXR and make it to NXN.
The state is loaded with your team, CBA, Westfield, Haddonfield etc. What are your thoughts on Union Catholic being able to win the Meet of Champions title for the second straight year?
I am very confident in my team, and I trust what we are doing. I think we have a really good shot at winning again this year.
NJ is loaded with so much distance running talent? How much does the amount of talent in the state push you to work even harder?
The amount of competition I have had since running in high school is awesome. We have so many talented runners, and it definitely pushes me in races and in my training.
Let's rewind the clock. How and why did you get involved in running?
I started running cross country in middle school, just because it looked fun, and I heard it helps you get into shape for basketball.
Every runner has a breakthrough performance when they reach a huge goal or win a big race, which elevates their confidence level and leads to much bigger things. When was your first big breakthrough race, when you realized you had the potential to be one of the best distance runners in the state?
I would say when I ran 15:36 at Oak Ridge at the Bernie Magee meet. It was a big win and a big PR, and it gave me a lot of confidence for the rest of the season.
How surprised are you by what you've accomplished in your two years of high school running? You've really come a long way in a short time after finishing second in the freshman race at the Union County XC Championships.
I don't really think about it that much, but sometimes I have moments where I realize what I have accomplished and it's pretty crazy. But, at the end of the day I still have a lot more I want to do and I'm not even closed to finished.
I know how much of a student of the sport you are? What are some of the race videos you've watched the most, and what are some of things you've learned the most about racing and about the history of the sport through your research and video watching?
I love running so I watch old races all the time. A couple races I love to watch are the 2007 Nike Outdoor Nationals 2 mile (Centrowitz vs. Forys), 2014 NCAA 5k (Lalang beats Cheserek), 1999 Grand Prix Rome (Hicham El Guerrouj World Record,) 2000 Foot Locker XC Nationals (Ritzenhein beats Webb and Hall), 2011 Pre 2 Mile (Bernard Lagat wins, Verzbicas 8:29), 2000 Olympic 10k (Haile Gebrselassie wins), 2016 Olympic Trials 5k (Lagat wins), and the 2016 Penn Relays 4xMile (Nova beats Oregon) just to name a few. I could go on and on and probably list a bunch more that I left out, but I will cut it there. I have learned so much about the athletes that have come before me, and I love watching and learning about running almost as much I love to actually run.
Who is your favorite distance runner of all-time and why?
This is a really hard question. I don't think I can pick just one so a couple would be Adam Goucher, Bernard Lagat, Eliud Kipchoge, Prefontaine, Gebrselassie, Kenenisa Bekele, and Centrowitz. One of the most underrated runners of all time is Gerry Lindgren, who won the Olympic Trials 10k as a high schooler and ran 8:40 indoors on a wooden track. Just wanted to add that because he does not get the recognition he deserves!
What do you love the most about running XC?
I love the thrill of winning and competing against others and trying to break them.
If you could go for a long run with any four pro runners (past or present) who would it be and why?
Got to go with Pre. It may be a cliche' and basic answer, but he is an icon of the sport and I would love to hear and talk to him. Kipchoge for sure. He just seems like such a positive person and is someone who pushes the limits of the human body like no other. Another on would be Centrowitz. I would love to talk to him about his strategies as he is one of the smartest and tactical racers I have ever seen. Ollie Hoare would be awesome to talk to as he is one of the best milers on the planet right now, and is just coming off a win at the Commonwealth Games!
What is the most impressive NJ XC/T&F accomplishment you've ever witnessed, and what made it stand out so much to you?
I would say first hand witness would be Marco Langon running 8:48 indoors at MOC. It was pretty crazy and was such a cool race.
Running shoes: What type of shoes do you train in and race in and why are they your shoes of choice??
I train in Nike Invincibles, and I love them as they are pretty bouncy and responsive and are good for long mileage stuff. I race in Dragonflies as they are for sure the best spikes out there right now.
Favorite running season and why?
I cant pick, I usually just love whatever is going on the most.
Favorite subject in school and why?
History because I'm infested in learning about the past.
What did you do this summer when you weren't out there training?
Just hanging out with my friends and my girlfriend, going to the beach/city, and working as a lifeguard.
If you weren't a runner, what sport would you be playing?
Probably basketball
Where do you see yourself in 10 years?
Running 🙂
What advice would you give to younger runners who are just starting out in the sport?
Stick with it! Sometimes it's gonna be very tough, and everything seems like it's going bad and your gonna hate it, and sometimes your gonna be having the most fun of your life. It is always an up and down, but you have to keep going!