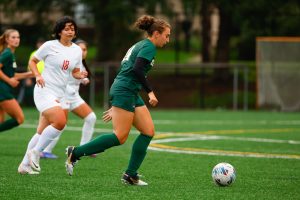 Soccer star Celia Kanellakos is Kent Place's Athlete of the Week
The senior midfielder has been instrumental in the team's success. So far this season Celia has 14 goals and 7 assists in 12 games.
Most notably was Celia's overtime winner in the Union County Tournament game over New Providence. New Providence, who had gotten the best of Kent Place in the regular season, hosted the second round of Counties. A 1-1 game went into overtime when Celia hit her 13th goal of the season to seal the victory for Kent Place.
In her career, she has scored 46 goals and notched 23 assists totaling 115 points.