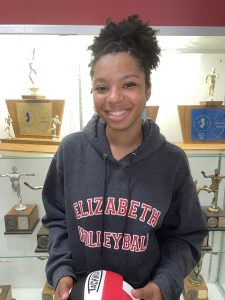 Aries Fontaine has been named Elizabeth's Female Athlete of The Week
Fontaine, a senior volleyball star, had an outstanding week for the Lady Minutemen.
The team went 2-1 last week with impressive 2-0 shutout victories against Scotch Plains and Ridge. Fontaine, a four-year varsity starter, led the charge with an astonishing total of 32 kills, 1 block, 20 digs, 14 service points and 11 aces over the 3 games! She is currently leading the entire state in kills with 219. Aries has a 4.19 GPA and is being recruited academically and athletically by several Division 1 schools.