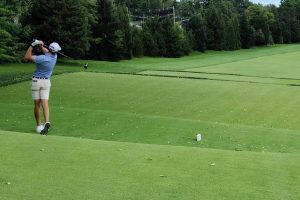 Here is the story by Lou Monaco of The Alternative Press –
SPRINGFIELD, NJ — Westfield native and Georgetown-bound Barnes Blake etched his name on another trophy Tuesday.
Taking a one-stroke lead entering the final 18 holes of the one-day, 36-hole 21st edition of the Carter Cup at Baltusrol Golf Club in Springfield, Blake posted a course-record tying 8-under 64 on the famed Lower Course setting a new tournament record of 11-under-par (69-64–133) as he cruised to an eight-shot victory over neighbor Reed Greyserman of Short Hills (75-66–144).
Blake's victory comes less than two weeks after winning the 106th Met Junior Championship Sponsored by MetLife at Echo Lake CC in his hometown, joining Pat Fillian as the only players to have won both the Met Junior and Carter Cup in the same year. Blake is a member at both Echo Lake and Baltusrol.
Blake, the first-ever Baltusrol member to win the Carter Cup, shot a 3-under 69 on Baltusrol's Upper Course in the morning, using a closing birdie to post one shot better than 2022 champion and Tuesday's 36-hole playing partner Cameron Besaw of New Canaan, Conn.
Last year, Besaw shot an 8-under to defeat second-place finishers Blake and Elliot Parker of Cranford by 10 strokes.
"Coming off the morning round, Cameron and I were really battling," said Blake after the round. "I knew in the second round I'd have to play a really solid round of golf because neither of us really made many mistakes."
Did he ever.
He birdied holes 1, 3 and 5 and then recorded birdies on three straight holes (7, 8 and 9) to close out his front nine with a 6-under 30.
"I had a really good touch on the greens all day," said Blake, who leaves for D.C. on Aug. 17 to begin his college journey. "In the morning the putter was really good and then this afternoon the putter was spectacular. I've never putted that well in my entire life. Almost every 25-footer I had felt like it was going in, so it's just an awesome feeling when you get the putter rolling."
Playing in his friendly confines was also beneficial.
"To play in front of a home crowd for two weeks this summer was awesome. Today was that much more special because my family has personal ties with Michael Carter. My uncle played soccer with him growing up, so we know the Carter family well," said Blake.
The Carter Cup was first played in 2003 and is named in honor of Michael P. Carter, an accomplished junior player at Baltusrol and standout member of the golf team at New Jersey's Delbarton School who died in a car accident in 2002. Carter had won the junior club championships at both Baltusrol and Winged Foot and at the time of his death played for Penn State.
"It's awesome to add my name to my trophy," said Blake. "It's also really cool with the plaque being in the locker room, I'll be able to walk by my name every day from now on. So that's really special and the names on there — Cameron Young, Morgan Hoffmann — it's just incredible to join them."
Thomas Finn of Locust Valley, NY, used a pair of 71s to finish at 2-under 142, tying for third place with Besaw who tallied scores of 70-72. Fellow neighbor TJ Betlow of Short Hills and Met Junior runner-up to Blake, Liam Pasternak of Morristown each shot 2-over to finish in a tie for fifth place.
With the victory, Blake earns 225 points in the race for the MGA Player of the Year Award, Presented by Callaway. He stands atop the listing at 555 points, 180 points ahead of Finn.
Blake has two tournaments remaining: 121st MGA Met Amateur Championship at Friar's Head in Riverhead, NY (Aug. 3-6) and the 102nd NJSGA W.Y. Dear Junior Championship (Aug. 8-10). at Forsgate CC in Monroe, NJ.
Two more chances for more history for one of the all-time greats in the Garden State.