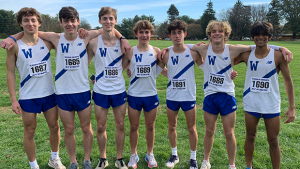 Ever since narrowly losing to Cherokee in Group 4 last year by just 11 points after a mishap with the results originally had Westfield listed as the winner, the Blue Devils vowed to come back and take care of unfinished business.
Westfield, ranked No. 3 in the state, left no doubt about its supremacy this time as the Blue Devils lit up the course with an eye-popping average of 16:00.9, the fourth fastest ever run at Holmdel Park as the Union County powerhouse routed a loaded field to win its first title since 2011 at the NJSIAA Group Cross-Country Championships at Holmdel Park.
It's the16th state title for Westfield, which is a Group 4 record.
Avery Keith finished second in a big Holmdel PR of 15:40, which is a Westfield course record, to ignite a 2-10-11-13-18 scoring combination that added up to a 54-104 victory over runner-up and No. 4 ranked Ridgewood. Westfield's 54 points tied the Group 4 record for fewest points score, which was set by Mainland in 2003. As usual, Westfield had a very impressive 1-5 compression of 40 seconds as the Blue Devils put all five of their scorers in front of Ridgewood's No. 2 man. Ridgewood ran a great race, averaging 16:22, but they ran into a buzzsaw.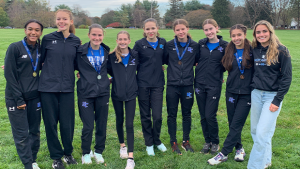 Meanwhile, the Union Catholic girls, No. 1 in the state and No. 6 in the nation, inched a little closer to the Holmdel Park course record when the Vikings averaged a meet record tying 19:04.8 en route to a third straight Non-Public A Championship, 27-69 over No. 5 ranked Pingry. UC's 19:04.8 is tied for No. 4 all-time at Holmdel. The course record is 19:01.0 set by Voorhees at the 2007 Meet of Champions.
Freshman phenom Paige Sheppard fueled a 1-2-4-9-11 scoring combination for UC by winning the race in 18:09. Senior Courtney Kaiser was second in a Holmdel PR of 18:23, sophomore Ella Solorzano placed fourth in 19:14, a huge Holmdel PR, freshman Kayla Devine finished 9th in 19:49, and senior Peyton Hollis finished 11th in 19:56.