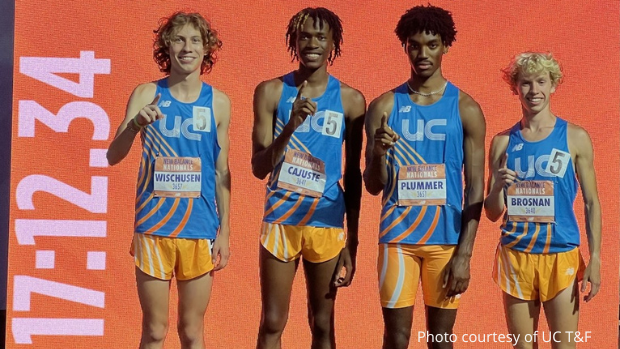 Union Catholic captured two titles, and Celine-Jada Brown, Julia Jackson, and Jimmy Wischusen sparkled at the New Balance National Track and Field Championships, which concluded on Sunday at historic Franklin Field in Philadelphia.
The Union Catholic boys equaled the oldest state record when they won the 4xmile in 17:12.34, tying the NJ record that was set by Essex Catholic in 1966.
Wischusen, who anchored the 4xmile for UC, also broke the state sophomore record in the two-mile when he finished fourth in 8:56.41, the top time by a NJ runner this season. And Wischusen was ninth in the mile in 4:09.90, the second fastest time by a sophomore in NJ history.
In the girls competition, the UC girls won the 4×800 in 8:54.67, No. 3 in state history. Brown, a senior at Plainfield, soared 20-4.25, No. 4 in state history, to finish third in the long jump. Jackson, a senior at Scotch Plains-Fanwood, placed third in the 400 in 53.82, and anchored the fourth-place 4×400 with a 52.72 split.