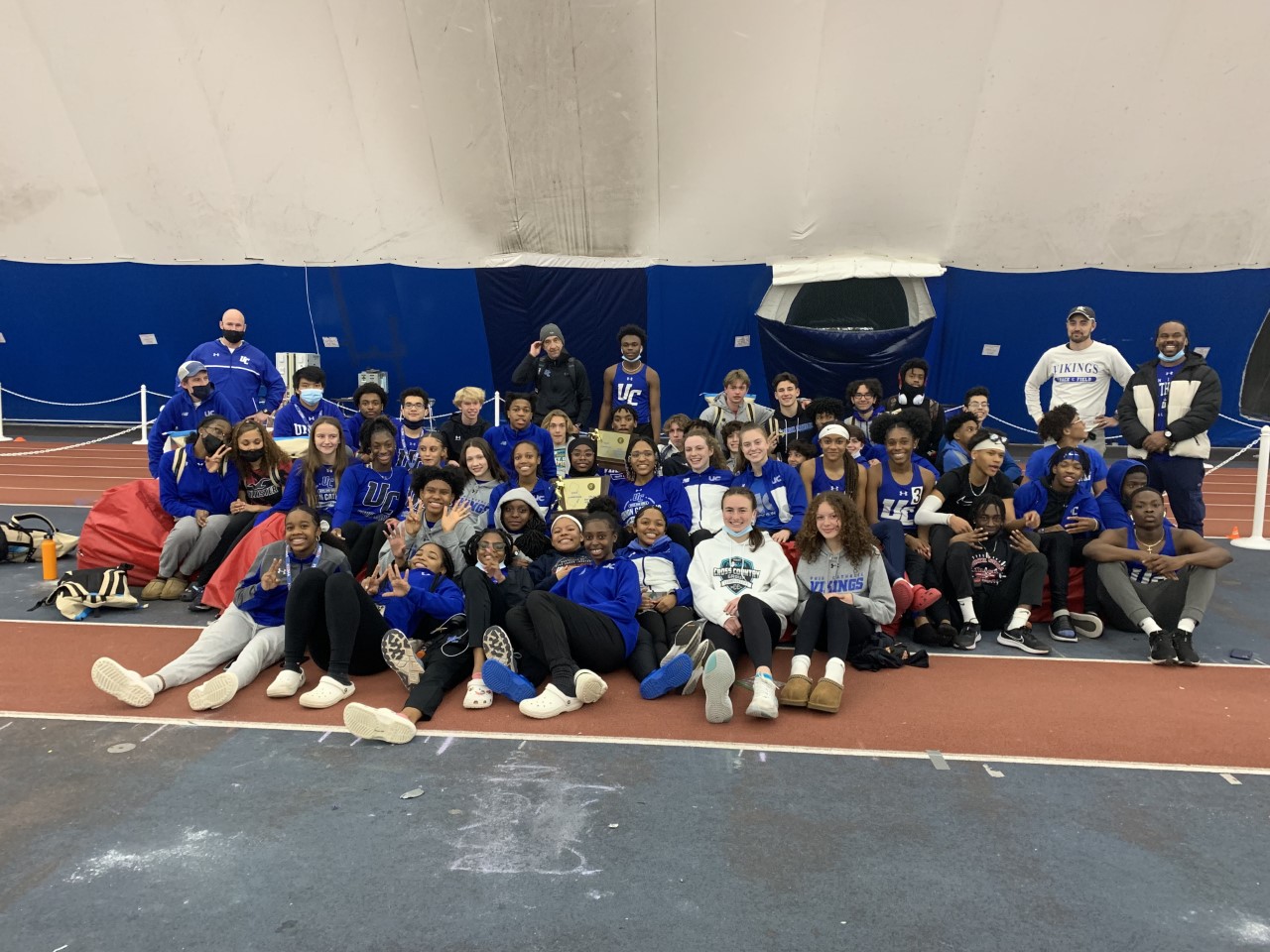 Union Catholic extended one long streak and ended another when the Vikings pulled off a remarkable sweep of the team titles at Friday's NJSIAA Non-Public A and B Championships on Friday at the Bennett Center in Toms River
The UC girls simply overpowered the competition, and reaffirmed their status as the top team in the state by scoring in all nine events and ringing up a meet-record 109 points to runaway with their seventh straight title. Kent Place was second with 40. UC broke the girls' overall meet record (all groups combined) for points scored of 105 that UC set in 2015
The seven championships by the UC girls ties them with Bernards for the fourth most in state history for a girls program. Columbia and Winslow share the state record with 10 titles each, and Haddonfield has captured nine.
On the boys side, Union Catholic won its first A Division title ever by snapping Christian Brothers Academy's run of 10 straight titles with an 87-65 victory over runner-up CBA. UC won its previous two championships in the B Division in 2012 and '13.
Let's look at how the UC girls racked up their record 109 points.
In the 800, junior Kaleigh Gunsiorowski (2:17.26), Maameyaa Nyinah (2:20.18), and Asydiah Pray-Brown (2:22.63) swept the top three places for UC for 24 points.
Ajanae Thompson led the 1-2-5 finish for UC in the hurdles with a winning time of 8.21 with teammate Taylor Cox second in 8.41, and Alexandra Bonn fifth in 8.83. Thompson and Cox also scored big in the 55 dash as Thompson was second in 7.21 and Cox third in 7.39. UC also picked up a sixth in the dash from Chai Lendor (7.61).
UC received a 3-4-6 in the 400 from Nyinah (59.85), Pray-Brown (1:00.82), and Aniyah Charles (1:01.92), and the Vikings won the 4×400 in 4:11.38.
In the field,,Jada Mia Puryear was first for UC with a throw of 41-6.50, and teammate Simone Motley placed second with 33-9.25. UC received a 3-4 finish in the pole vault from Seton Dill (a PR of 8-0) and Carmela Lo Stuto (a PR of 7-0), and Bonn scored in the high jump when she cleared 4-8 to place sixth.
For the UC boys, seniors Nick Givan, Shane Brosnan, and Myles Plummer led the charge for the Vikings.
Givan won the hurdles with a PR of 7.73, placed second in 400 in 50.02, fourth in the high jump (6-0), and he ran on the runner-up 4×400.
Brosnan won the 1,600 in 4:16.08, finished first in the 3,200 in 9:28.01, and placed third in the 800 in 1:58.29.
Plummer placed second in the 800 in 1:56.67, third in the 1,600 in 4:17.39, and he ran on the relay.
The Vikings also picked up huge points in the pole vault from Aidan Reidy, third with a PR of 10-6, and Matthew Schutz, fourth with a PR of 10-0.
Also scoring for UC were Al-Qamar Rojas (fifth in the hurdles), Noah Alston (sixth in the hurdles), Caudell Cajuste (sixth in the 1,600), Ryan Cichocki (fifth in the 3,200 with a PR of 9:50.50), and Alex Saldana (sixth in the 3,200 with a PR of 9:50.51.