The Union Catholic girls added to their legacy as one of the greatest programs in state history by smashing multiple records and capturing an eighth straight championship at Friday's NJSIAA Non-Public A Relays Championships at the Bennett Center.
The Vikings racked up a meet record 80 points out of a possible 90, and shattered two meets records and one facility record on the way a 51-point victory over runner-up Paul VI. UC's eight straight titles is the second most for a girls program in meet history behind the nine in a row that Hopewell Valley captured from 2002-10.
Union Catholic's victory comes two days after the UC boys won the Non-Public B State Relay Championship.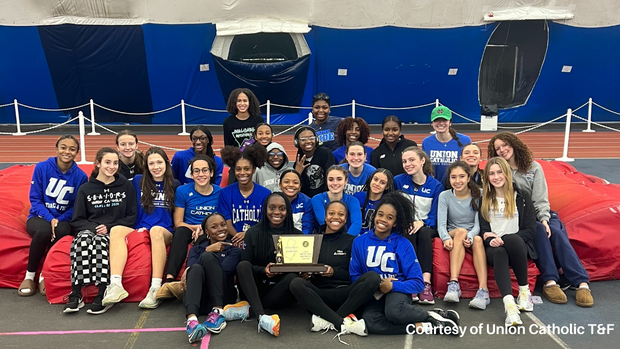 The biggest highlights of Friday's meet came in the shuttle hurdles and the 4×200 relay when the Vikings absolutely blew up the track in those races!
UC torched the track to win the shuttle hurdles as Taylor Cox, Ajanae Thompson , Leah Gould, and Alexandra Bonn combined to run 30.81, and Thompson, Cox, and Gould teamed up with Taylor Aska to burn a 1:42.94 to finish first in the 4×200!!!
Just how fast are those times??
The 30.81 is the second-fastest time in state history, smashed the Non-Public A meet record of 30.98 set by UC in 2015, and broke the Union County record of 30.87 that the Vikings set earlier this month at the Union County Relays. The only team to run faster in state history is Winslow, which dropped a 30.74 at the 2014 State Group 3 Relays.
As for UC's 1:42.94 in the 4×200, that's the fastest time in meet history for all the groups combined, and is the fastest time ever run at the Bennett Center. The previous all groups record and facility record was 1:43.52, which was set in 2015 by Union Catholic.The Vikings also won the DMR in 12:50.24, the sprint medley in 4:16.78, the 4×400 in 4:16.80, and the high jump, and placed second in the 4×800, second in the pole vault, and fourth in the shot put.
It was another masterful performance for coach Mike McCabe's squad, who haven't lost to a New Jersey team since 2014.