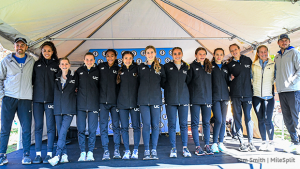 There have been a lot of legendary runners and teams that have produced jaw-dropping and mind-boggling races over the years in New Jersey's rich distance running history.
But what happened on Saturday at Holmdel Park may just be the most stunning, eye-popping, earth-shattering and electrifying performance in state history.
The Union Catholic girls, who have been chasing the Holmdel Park course record average for two years, not only broke it at the 51st NJSIAA Meet of Champions, they absolutely blew it apart with an epic performance for the ages when the Vikings leveled up and lit up the 3.1-mile course with a hard to fathom average of 18:37!!!!! That's not a misprint!!
UC's masterpiece propelled the Vikings to its second straight title in the biggest blowout in meet history, outscoring runner-up Middletown South, 31-145. That's the biggest margin of victory in a girls race in meet history!! And UC's 31 points is the third lowest score ever recorded by a girls squad. North Hunterdon scored 24 in 1986 and 30 in 1981.
This is by far the greatest performance by a NJ girls team on any course ever!!! It's not even close! Taking down the Holmdel Park course record by 24 seconds is the ultimate XC flex!
For some perspective on just how massive this performance is by the Vikings, the 18:37 average by UC is faster than 18 of the winning individual times at the Meet of Champions.
The Vikings, who have a mix of great senior leaders, talented sophomores and arguably the best freshmen class in NJ history, took down the most hallowed and prestigious course record in NJ by a staggering 24 seconds!!! Voorhees set the record of 19:01.0 at the 2007 Meet of Champions, and Union Catholic, after a couple near misses this season, finally broke through and smashed that record into pieces.
On a day dominated by the defending champions, UC's masterpiece propelled the Vikings to its second straight title in the biggest blowout in meet history, and Emma Zawatski of Freehold Township won her second straight title in 17:52 as she rallied to keep her crown in a memorable showdown with freshman phenom Paige Sheppard of UC, second in 17:54!
Let's take a deeper dive into this instant classic.
BOMBS AWAY
This was the race that UC, ranked No. 1 in NJ and No. 6 in the U.S., had waited all season for, and the Vikings made sure to get what they came for by leaving lots of smoke on the course and no crumbs!
Sheppard, as gifted and talented as any freshman to ever burst on the scene in NJ, got the UC express rolling by igniting a 2-4-8-15-16 finish for the Vikings with her runner-up finish in 17:54, the third fastest time ever run by a freshman at Holmdel.
UC's Fab Five scores were Sheppard, UPenn-bound Courtney Kaiser, fourth in 18:17, Duke-bound Peyton Hollis, eighth in 18:41, freshman Cayleigh Kaiser, 15th in 19:06, and freshman Kayla Devine, ninth in 19:09. UC showed its superior depth as its sixth and seventh runners, sophomores Ella Solorzano (29th and 19:34, and Emmy O'Hearn (43rd in 19:54) both finished ahead of the No. 2 runner for Middletown South.
Last week, UC won the Non-Public A title with an average of 19:04.8, tied for No. 4 in Holmdel history at the time.
How did they chop off 27 seconds in a week?
Sheppard sliced off 15 seconds, Courtney Kaiser cut six seconds, Hollis made a huge drop of 75 seconds (she had an off day last week), Cayleigh Kaiser ran a 13 second Holmdel PR, and Devine was 33 seconds faster this week.
"We knew that we were ready to drop a bomb and crush that record," said Courtney Kaiser. "We just had to all run our best on the same day and we put it all together today and made it happen. We knew we were' capable of something like this. It was just a matter of time."
UC's 18:37 added to its course record-breaking rampage this season. The Vikings have taken down the CR averages at every course they've run on this season with their top guns, Sayreville Soccer Complex (18:27), Oak Ridge Park (18:20), Warinanco Park (18:18), and now Holmdel.
Courtney Kaiser said there still a lot of work to be done.
"We are just getting started," she said. "Our goals now are to win the regional and get to nationals and take on the best teams in the country and see what we can do."