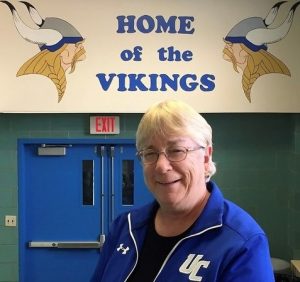 Kathy Matthews, Union Catholic's legendary girls basketball coach, reached another huge milestone in her remarkable career by winning her 750th game on Monday when the Vikings defeated St. Dominic Academy, 35-22, at Hudson County Prep in Jersey City.
Matthews, who now has a career record of 750-346 in her 45 seasons at the helm for UC, is just the third girls basketball coach in N.J. history to win 750 games. She joined Jeff Jasper (Pascack Valley) and Sue Liddy (Holy Angels) in the 750 club.
The outcome of this game was never in doubt as Union Catholic raced out to a 15-6 first quarter run, and extended the lead to 25-10 at the half.
Senior Kayla Riley the way for UC by scoring 11 points, and junior Adela Rakoski scored nine points, and senior Daniela Peralta finished with eight points for the Vikings.
Here is a look at the remarkable career of Kathy Matthews-

TITLES
State Championships (3) Runner-up (2)
North Jersey, Group 2 Championships (2)
Sectional Championships (5)
County Championships (8) Runner up (9)
Conference Championships (13)
Tournament of Champions runner-up (1989)
Finish the 1989 season ranked No. 2 in New Jersey
ACHIEVEMENTS AND AWARDS
D'Angola Award: Outstanding Female Athlete (Kean University)
Kean University Coaches Award (tennis & softball)
N.J. State College Tennis Champion
Women's Softball Dream Team Kean University
UCIAC Coaches Award: 1977 1986 1987 1988 1989 1992 1998 2001
HALL OF FAME INDUCTIONS
Kean University Hall of Fame (athletic achievement and head softball coach)
Woodbridge Township Hall of Fame (athletic achievement)
Union Catholic Hall of Fame (coaching)
NJSIAA Coaches Hall of Fame
COACH OF THE YEARS AWARDS
Union County Coaches Association: 1981 1986 1988 1992 1998 2001 2005
NJSIAA Basketball Coaches Award
Daily News All-Star Coaches Award
National Federation Interscholastic Coaches Association New Jersey Basketball Coach of the Year
National Citation: National Federation Interscholastic Coaches Association Section One Distinguished service award
STAR PLAYERS
Coach Matthews has produced several all-conference, all-county and all state players. Several of her players have been named the UCIAC Conference Player of the Year and many of her teams have been named County Team of the Year. Twenty three of her players have received athletic scholarships to play at the Division 1 and Division 2 level.
First team All-State and Olympian Kris Kirchner was also first team All-American in college, and the Gatorade National Basketball Player of the Year in high school.
Kris Durham was First-Team All-State, First Team Parade and Converse All-American, and she was selected to The Star Ledger "All-Century Team."
All-Stater Cheryl Cop was 106-6 during her career at UC, and she played on 4 conference, 4 counties, 3 sectionals and 3 state championship teams. Cop went on to have a great career at Rutgers University and is in the UC Hall of Fame and Rutgers University Athletic Hall of Fame.
Jess Ballweg was named Parade Magazine "National Defensive Player of the Year" in soccer. Jess was also a member of the Santa Clara NCAA National Champion soccer team.
Madison Johnson (Class of 2021) was a 1000 point scorer, named the Union County Conference "Player of the Year" and was awarded a DI scholarship to attend Rider University.