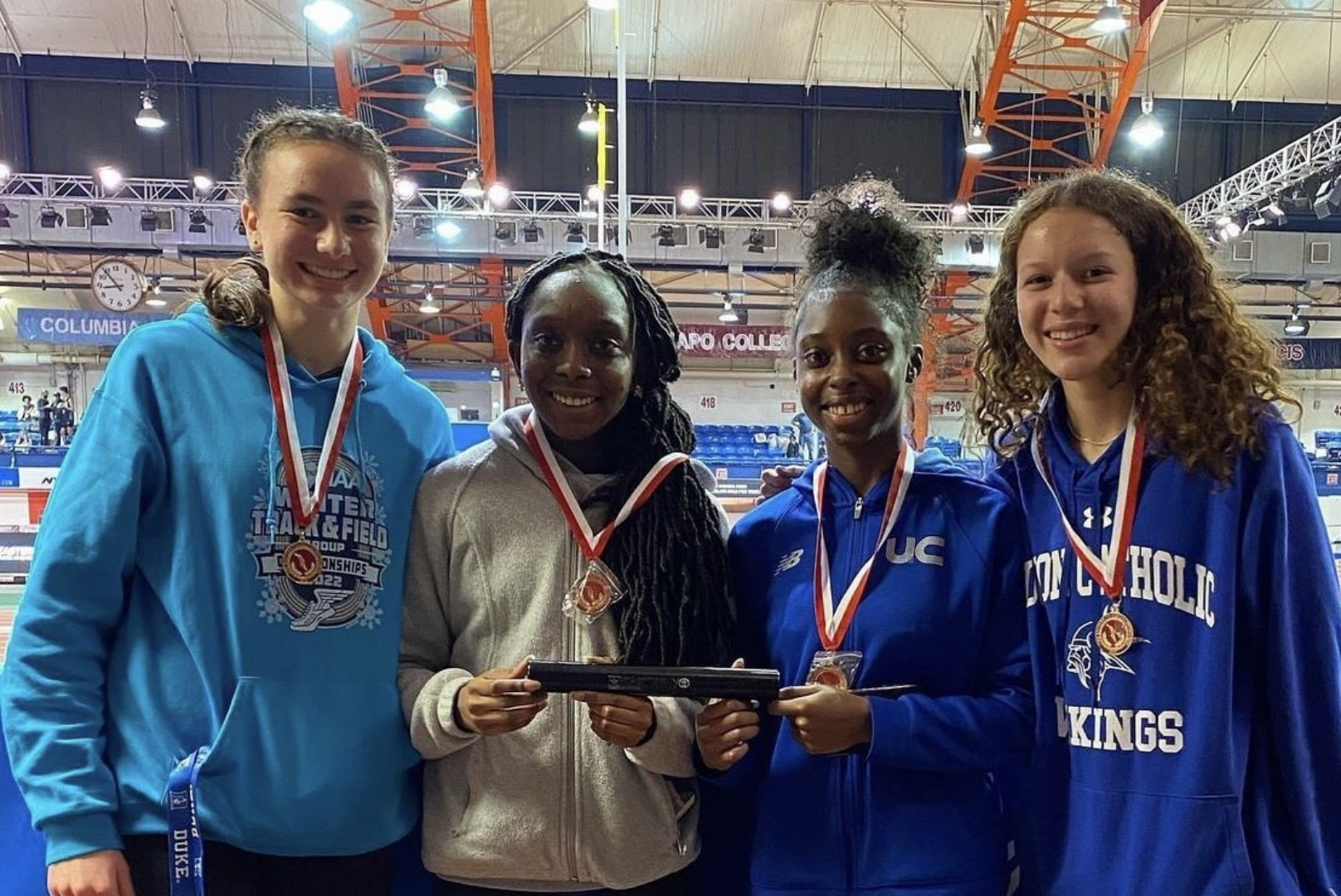 The girls distance medley relay was hyped up as the race of the night heading into Tuesday's 87th Eastern States Championships in the New York Armory's New Balance Track and Field Center.
And boy was it ever!!
Union Catholic and Colts Neck hooked up in a red hot battle as the two powerhouses pushed each other to two of the fastest times in state history.
Union Catholic won the race by stopping the clock at 11:45.70, the third fastest time in NJ indoor history. Colts Neck was second in 11:49.73, No. 4 in state indoor history.
UC and Colts Neck are now No. 2 and No. 3 in the U.S. this season behind the 11:21.95 run by the Purple Track Club (Ann Arbor Pioneer High School) in Michigan. That's the fastest time in U.S. high school history, but since it was run on a 300m flat track, it's not the eligible for national record consideration. Indoor records must be achieved on 200m tracks.
The only NJ teams to ever run faster indoors than UC and Colts Neck are Southern Regional, which ran a state record 11:41.12 to finish first at the 2009 New Balance Nationals Championships, and Haddonfield, which ran 11:43.94 to place second at the 2014 New Balance Nationals.
The splits for UC were 3:39.94 for 1,200 by junior Kaleigh Gunsiorowski, 1:01.20 for 400 by senior Aniyah Charles, 2:17.38 for 800 by junior Maameyaa Nyinah, and sophomore Peyton Hollis anchored in 4:47.18.
Union Catholic turned in several other sparkling performances.
Senior Jada Mia Puryear won the girls shot put with a throw of 40-6. The girls 4×800 squad finished first in 9:25.40. Junior Alexandra Bonn soared 17-7.25 to place second in the long jump, and she finished third in the long jump triple jump with a season-best 36-4.75, which is the second best jump in the state this season. Bonn is also ranked No. 4 in the state in the long jump with a 17-9.
On the boys side, Noah Cooper extended his own state freshman record in the long jump with a second-place leap of 21-8. Freshman Evan Weber placed fourth in the two-mile run in a personal best 9:55.64, and the 4×800 team finished ninth in 8:16.53.