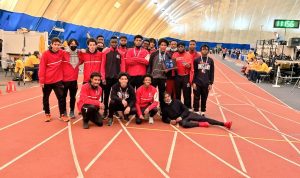 The Rahway boys equaled the state record with their ninth title at Saturday's North Jersey, Section 2 Groups 2-3 Championships at the Bennett Center in Toms River.
Rahway, led the dynamic duo of Micah Lawson and Damani Brown, withstood a strong challenge from Chatham to win the boys Group 2 title and give the Indians its ninth sectional championships, which ties it with Willingboro for the boys state record. Willingboro captured its ninth title by winning the South Jersey, Group 1 title last week.
Since the indoor state sectionals began in 2008, Rahway has won seven titles in North Jersey, Section 2 in 2009, '10, 11, '12, '13, '14, '22, and two in Central Jersey (2017 and '18).
Juniors Lawson and Brown led the charge for Rahway, who defeated runner-up Chatham, 63-52.
Lawson scored 20 points by winning the 1,600 in 4:29.96 and placing first in the 800 in 2:02.08, and he also ran on the runner-up 4×400. Brown scored 16 points by placing second in both the 800 in 2:02.14, and the 1,600 in 4:30.63. He also ran a leg on the runner-up 4×400.