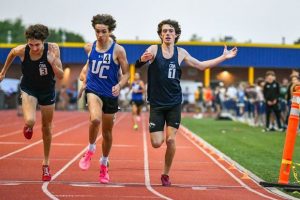 Track and field star Ryan Cichocki has been named Union Catholic's Union County Conference Male Athlete of the Week.
Cichocki came up with the best race of his life when he pulled off a stunning victory at the NJSIAA Non-Public A Championships when he edged past Conor Clifford of Christian Brothers Academy right before the finish line to score a heart-pounding victory with a personal best time of 4:15.53.
The triumph by Cichocki, who is headed to St. Joseph's University, put the finishing touches on his remarkable career at Union Catholic.
In the fall of 2021, Cichocki helped lead the Vikings to its first victory ever at the NJSIAA Cross-Country Meet of Champions to earn the No. 1 ranking in the state. This past indoor season, Cichocki ran a gutsy anchor leg when he brought Union Catholic across the line first to win the 4xmile at the New Balance Indoor National Championships.