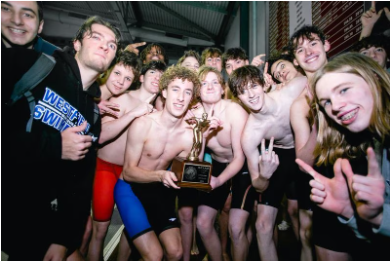 Here is the story by PJ Potter of NJ.com
Westfield owns the water in Union County once again.
Despite a decent turnover in the roster due to graduation, the defending champions of the county meet registered 466 points and six victories to keep the trophy within possession on Sunday at Rutgers University.
Ranked No. 1 in the NJ.com Top 20, the Blue Devils' path to glory began in dominant fashion.
"This group is extremely motivated. They've come in with a renewed vigor and have worked so hard. It wasn't just the center lane guys today. It was everyone contributing to begin our championship run," Westfield head coach Jeff Knight said.
Colin Kavanagh and Danny Pierce set the tone, punching out a pair of one-two finishes in the 200 individual medley and 100 backstroke.
Kavanagh notched both victories, sailing to a 1:58.20 in the IM and a 53.10 clip in the 100 back as part of a 40-point day for the senior.
Pierce, a sophomore, tallied the silver in the IM (2:00.63) and in the back (53.81) behind his All-State teammate.
"That was so exciting. We came in here hyping each other up and wanted to get those wins and got it done. On the backstroke, I was really scared. I saw him catching me so I had to put on the burners," Kavanagh said.
"There's a lot of great swimmers in this county. It was so fun going out there today and I definitely feel like I have some big shoes to fill next year once Colin graduates. He pushes me a ton," Pierce said, who added 34 points for Westfield.
"Hard work makes good luck. Those two work unbelievably hard and it's a byproduct of everything they put in. I'm really proud," Knight added.
Kavanagh was also part of the winning 200 medley relay squad (1:37.92) alongside Christian Tedesco, Owen Waibel and Leo Mangiamele.
Waibel was also a two-time winner in his individual races, smashing to a 21.73 time in the 50 free and a 59.35 in the 100 breast. Waibel was a second-place finisher in the 50 free last season, so he came back in 2023 lasering to the finish.
"Owen is so focused. He's a true pleasure to coach because his aspirations are so high," Knight said.
Waibel also unleashed a 20.98 clip as the anchor in the Blue Devils' 200 FR victory alongside Logan Swenson, Christian Tedesco and Mangiamele.
Summit, finishing second in the meet with 335 points, earned two wins on the day.
Sophomore Will Moon was spectacular, finishing first in the 200 freestyle at 1:43.98 ahead of Scotch Plains-Fanwood's Owen Higinbotham (1:45.05).
"It was a pretty good race. I was exhausted but I just felt something at the end and really wanted to win that so I found one last gear. It felt great," Moon said.
Higinbotham got the best of Moon in an incredible 500 free event, clocking out at 4:47.15 in the 4.5-second victory over Moon. About halfway through, the two stars were tied at 2:49.71 with a few legs left. Higinbotham knew he had to channel all his might to finish with the win.
"I was thinking about the earlier race in the 200 free when he out-touched. I knew I couldn't let that happen again and I just pushed my jets and focused on my kicking a bit more there," Higinbotham said.
In the 400 freestyle relay, Moon still had a little left in the tank. Jumping into the water as the third swimmer for Summit, Moon overtook Westfield to create enough spacing to give the Hilltoppers a win and a great final note to walk out on. Moon was joined by Kyle Dripchak, Charlie Moon and Devin Tapia in the 3:19.87 win.
"We take today as a victory. It was an awesome meet and we gave it our all," Moon said.
Gov. Livingston scooped a win as well in the 100 butterfly. Ethan Wong (52.68) led the way in a one-two finish for the Highlanders. Caden Wong finished the race right behind him at 53.17. Ethan Wong also tallied a second-place nod in the 100 breast at 59.37.
Linden's Peter Jarzab was exceptional, winning the 100 free at 48.80 and added a second-place finish in the 50 free at 22.25
Boys Scores, Union County Championship
1. Westfield – 466
2. Summit – 335
3. Scotch Plains-Fanwood – 225.5
4. Oratory Prep – 206.5
5. Gov. Livingston – 204
6. New Providence – 151
7. Elizabeth – 111
8. Cranford – 106
9. Union Catholic – 89
10. Linden – 83
11. Union – 34
12. Johnson – 33
13. Plainfield – 30