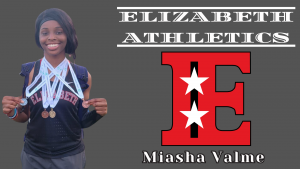 Track and field star Maisha Valme has been chosen as Elizabeth's Union County Conference Female Athlete of the Week.
Maisha, a senior, continued her outstanding spring season with several impressive performances at the Union County Conference Championships and the Union County Championships.
At the Conference Championships last week at Governor Livingston, Maisha placed first in the long jump in the Watchung Division with a jump of 17-11.7.5 to qualify for the New Balance Nationals in June. She also placed second in the triple jump at the Conference Championships with a jump of 37-6.5, which also qualifies her for Nationals, and she placed 3rd in the high jump by clearing 4-10, and finished fourth in the 100 hurdles finals with a time of 15.30.
She followed that up with a remarkable performance at the Union County Championships on May 23-24 at the Milt Campbell Track and Field Complex in Plainfield. Maisha cleared a personal best 5-2 to win the high jump, soared a personal best 38-3 (No. 6 in the state this season) to place second in the triple jump, went a personal best 18-7.75 (No. 7 in the state this season) to finish second in the long jump, and she ran 15.61 (15.19 in the trials) to finish sixth in the 100 hurdles. Masiha's great all-round performance sparked Elizabeth to a very strong runner-up finish in the final team standings.