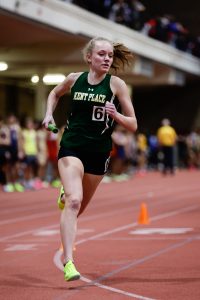 Lindsay Hausman has been named Kent Place's Union County Conference Athlete of the Week
The senior captain cemented her legacy as one of the most dominant distance runners to ever come through Union County by winning her third straight county title in the 3,200 last week at the Milt Campbell Track and Field Complex in Plainfield. The Duke-bound Hausman made a strong surge on the fifth lap to break away from Kaleigh Gunsiorowski of Union Catholic on her way to victory in 10:34.21.
Hausman's 3,200 title gave her an astounding career total of eight county championships!!! As a sophomore in 2021, she won the 3,200 indoors, and the 1,600 and 3,200 outdoors. Last year, she captured the 1,600 and 3,200 indoors and the 3,200 outdoors, and this year she won the 3,200 indoors and outdoors!
Earlier this season, Hausman ran 10:25.69 in 3,200, which is the second fastest time in the state this season, and this past fall she was named the Union County Cross-Country Runner of the Year.
Kent Place is extremely proud of Lindsay and is wishing her continued success at Duke.