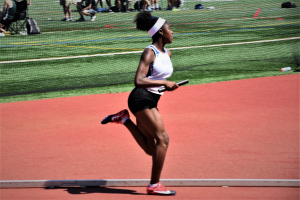 Jenai Berry has been named SPF's Union County Conference Female Athlete of the Week
The Rutgers-bound star has put together a remarkable season on the track for Scotch Plains-Fanwood
Accomplishments this season:
School Outdoor Record – 800
UCC Watchung Division Champion – 4 x 400
2nd Place in 800 @ Union County Championship
State Sectional Champion – 800 (this was her 4th state sectional championship in the 800- twice indoors and twice outdoors)
3rd Place in 800 @ Group IV State Championship
Meet of Champions Qualifier – 800, 4 x 400
Len Zanowicz Award – Top Female Athlete in the Senior Class
Four varsity letters in winter track. Four varsity letters in spring track.
Jenai has qualified for the MOC in both an individual event and the 4 x 400 in every Meet of Champions (both indoors and outdoors) while she has been in high school.
Jenai is also an EMT with the Scotch Plains Rescue Squad.