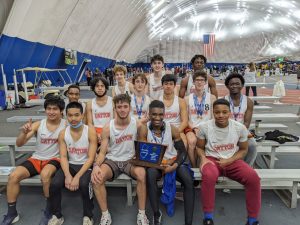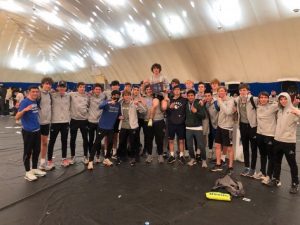 The Dayton and Westfield boys track and field teams each made history by winning sectional indoor championships for the first time ever this past weekend at the Bennett Center in Toms River.
Dayton, led by Colin Riley's distance double, won the Central Jersey, Group 1 title with a 75-59 over New Providence.
Riley, a junior, led a 1-2-5 finish for Dayton on the 1,600 with a winning time of 4:28.84, and he captured the 3,200 in 9:32.16. James Garcia also had a huge day for Dayton in the distances, placing second in the 1,600 and third in the 800.
Dayton also received a runner-up finish from Jonah Malino in the shot put, a runner-up finish from its 4×400 squad, and a second-place finish from David Rocha in the pole vault.
Meanwhile in North Jersey, Section 2, Westfield continued one of its greatest seasons ever by rolling to its first sectional title, 76-52 over runner-up Ridge.
The biggest highlight for Westfield came from senior Charles Stock.
Stock, the state leader in the 800 this season with a 1:55.02, smashed the overall sectional record (all sections and Groups combined) by winning the two-lapper in 1:55.55. The former record was 1:55.87 by Brad Paternostro of Ramapo in 2011.
Westfield, the Union County champs this season, also picked up a victory from Max Owens in the pole vault (13-3). The well-balanced attack by the Blue Devils also featured a 2-3-4 finish in the 3,200 from Avery Keith (9:22.14), Conor Daly (9:26.58), and Benjamin Hacker (9:31.40). Keith, a sophomore, also finished fourth in the 1,600 in 4:22.94.
Westfield also picked up a third from Owen Paul in the shot put, and a 2-3 from Justin Colby and Charles Garrettson in the 400, a fourth from Leo Schwartz in the high jump, a fourth from Ben Spergel in the hurdles, a sixth from Jonathan Scalia in the 800.