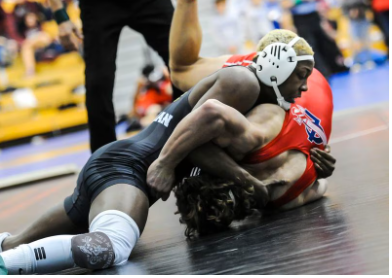 Cranford set a record by capturing its eighth straight Union County Wrestling Tournament Championship on Saturday at Kean University's Harwood Arena.
Another team title for the defending champion Cougars would give them their eighth straight. No team in county history and won that many consecutively. The field had no intentions of rolling over for them though, and Gov Livingston entered the final round with a narrow lead. The Cougars came up clutch in the championship matches, winning three of the four head-to-head matches with the Highlanders and taking six first-place finishes to win their eighth consecutive title.
"We've been grinding for it for a long time, and now we've got the eighth one," said Cranford head coach Pat Gorman. "We talked about it before the season started. We try to set certain goals to hit as the season goes on, and this was one of them. We've got some more as we head to the postseason, so this was definitely a highlight."
The first two matches pitted Cranford against Gov. Livingston, and the teams went 1-1 with Cranford's Michael Daly beating Gov. Livingston's Christian Sabatino via a 5-4 decision at 106, and Gov. Livingston's Brandon Rayak wrapping up a pin over Cranford's two-seed Ryder Connors at 113.
Luke Scholz scored a big pin for Cranford with 47 seconds left in his 126-pound final against Plainfield's Tahrae Brown, and gave the Cougars a lead they'd hold on to for the rest of the tournament.
"I was just confident," Scholz said after picking up his first-place medal. "I knew we needed that six for the team. I felt pressure, but it just made me more confident.
Cranford's biggest win came in a head-to-head match pitting their second-seeded 157-pounder Jordan Chapman against top-seed Jake Kriesberg. Chapman used a pair of first-period pins to book his way into the finals, and going against a top-seed didn't change his approach. Chapman dropped Kriesberg with a takedown and scored a pin just 43 seconds into the match.
Chapman's tournament performance, which earned him Most Outstanding Wrestler honors was all part of the plan, in more ways than one. The Cranford standout made a bet with a friend that he could pin his way to a title in under two minutes. Chapman won the bet by spending just a minute and 38 seconds on the mat for the whole tournament.
" I needed that six points for the team too so I didn't want to take any chances with a close match. He's a good kid but I knew I could get that six."
The win had some added significance for Chapman, as he narrowly missed out on taking first place as a freshman in the tournament last year,
"It felt really, really good to win it, and I feel like I deserved it," the sophomore standout said. "I was the two-seed this year after being the one-seed last year, which I wasn't happy about. I proved today that I should've been the one-seed."
Chapman's training partner Shane Kanterman took a methodical 14-6 major over Nate Faxon (Gov. Livingston) to win the 190 title. Dylan McDonald wasted little time before pinning top-seed Terrance Avent (Rahway) in the 215-pound final, and Lucas Esposito rolled to a 2:46 pin over Luke Vaccaro (Westfield) at 175. In all Cranford placed 11 out of its 14 grapplers.
Gorman made sure to note that his wrestlers that competed in the wrestle backs played a significant part in the win. Quentin Connolly (165) and Dylan Jones (144) led the charge in the wrestle backs by taking third place, and Gorman spoke highly of Alex Muller who took fifth at 138 after falling to the wrestlebacks in his second match.
"Those guys grinding in the back are a huge part of this," Gorman said.
Westfield finished in third place behind first-place finishes from Brandon Ribeiro (132), and now two-time champions Michael Murphy (165) and Ethan Composto (138).
Fourth place Roselle Park also had a trio of notable first place finishers.
Returning champion Mayson Harms had a tough outing against Christian Gioia (Gov. Livingston) in the 144-pound finals, but a rideout in the second period and a key reversal in the third gave him a 6-4 decision win and his second title.
"I was expecting to have to wrestle hard. It was a harder match, and I pushed through it," said Harms. I just knew if I kept wrestling hard I'd get the job done."
Harms' finals win was also the 99th victory of his career.
Roselle Park's heavyweight Kevin Osorio ended up being the highest seed to earn a title, as the fourth-seeded Panther took a quick pin in his championship match against Elizabeth's Connor Reid.
"I always had (my seeding) on my mind," Osorio said. Seeding is how you're ranked in the tournament, but I believe that any seeding can go anything at any time."
Osorio almost had his tournament ended early as he narrowly won his quarterfinal bout against fifth-seeded Carey Pritchett (Westfield) via a 7-6 decision. Osorio ended up pinning his way through the rest of the tournament.
The quarterfinals was definitely a wake-up call to start moving and doing more," Osorio said. "I started doing more in the semis, and it worked for me throughout."
Matthew Griffin also won a title for Roselle Park at 120.
Cranford finished with 269.5 team points, to Gov. Livingston's 240. Westfield had 196.5 team points and Roselle Park recorded 133 points.
1 Cranford 269.5
2 Gov. Livingston 240
3 Westfield 196.5
4 Roselle Park 133
5 Rahway 122.5
6 Brearley 100
7 Johnson 86
8 Plainfield 81
9 Union 48
10 Linden 47
11 New Providence 42.5
12 Scotch Plains Fanwood 39
13 Summit 33
14 Elizabeth 30.5
15 Roselle 10
16 Hillside 0