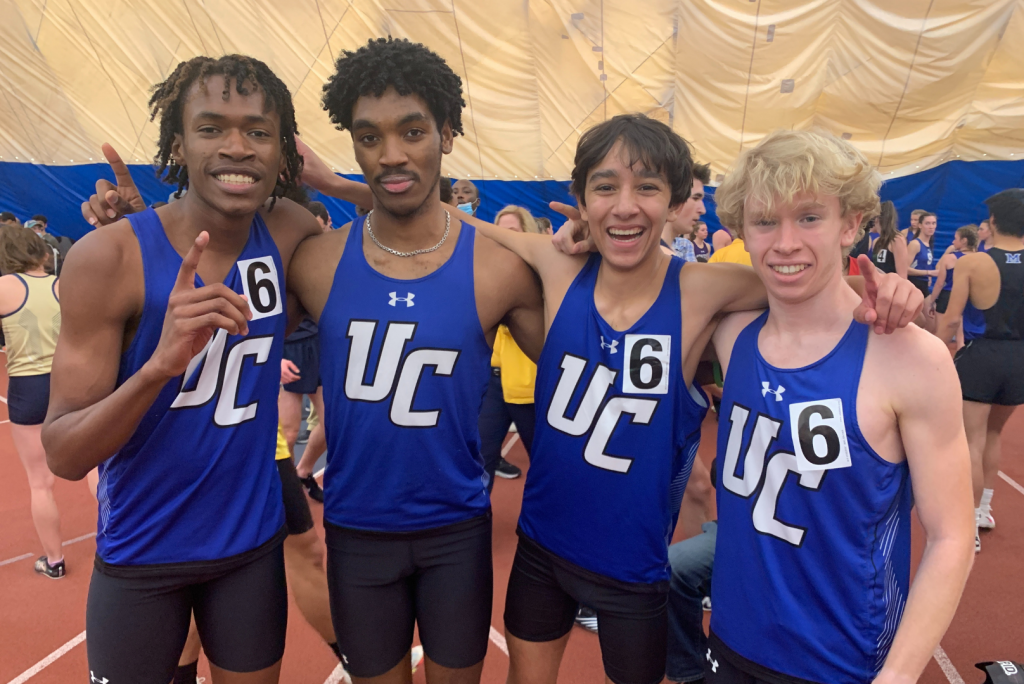 Union County crowned a whopping eight winners at the 53rd NJSIAA Track and Field Championships this past weekend at the Bennett Center in Toms River.
They were Greg McQueen of Elizabeth in the boys 200, Charles Stock of Westfield in the boys 800, Shane Brosnan of Union Catholic in the boys 1,600, the Union Catholic boys in the 4×800 relay, Christiana Nwachuku of Kent Place in the girls 55 dash, Julia Jackson of Scotch Plains-Fanwood in the 400, Alexandra Bonn of Union Catholic in the girls triple jump, and the Scotch Plains-Fanwood girls in the 4×400 relay.
Here is a look at each Union County winner-
 LIGHTNING MCQUEEN
Elizabeth senior Greg McQueen, who has been chasing a M of C title for the last couple years, didn't let a recent calf strain prevent him from winning his first title when he churned out a 21.82 to win the one-lapper.
McQueen's time is tied for No. 4 in meet history, and is the second fastest time ever in the Bennett Center.
"I've been thinking about this moment for a long time, so it feels good to finally get one of these," said McQueen. "I've been dealing with a sore calf, but I've been wearing compression sleeves that have helped, and I just put it out of mind and went after it today."
STOCK RISES
Charles Stock has always used a catch me if you can strategy when he races, so it wasn't a big surprise when the Westfield senior opened a big gap on the field with a 53.5 first 400. Stock continued to pour it on over the final two laps as he maintained his lead en route to victory in 1:52.70, which lowers his own state leading time and school record, is No. 8 in meet history, and No. 11 in the nation this season. Union junior Gabriel Rodriguez was second in 1:55.21
"I like to go out fast and keep pushing the pace," said the Virginia Tech-bound Stock. "It's the way I race and it's worked out well for me. If it's not broke, don't fix it."
Stock, who came back later to split 49.7 as the anchor on the runner-up 4×400, said his biggest target it to try to go sub 1:50 on the much faster banked track at the New Balance Nationals at the NY Armory next week.
"That's a big goal for me, and I know there will be great competition next week, so I'll be trying to drop my time as much a possible and see what happens."
BROSNAN ROLLS
Shane Brosnan dominated the field with a red hot 4:09.42, the second fastest time in meet history! Brosnan's time is No. 2 all-time at this meet behind the 4:06.6 run by Vince Cartier of Scotch Plains-Fanwood in 1972 at Jadwin Gym in Princeton. Cartier's 4:06.6 stood as the national record for several years.
The Harvard-bound Brosnan, who controlled the race from the front against a strong field that included Kyle Rakitis of Kingsway, the 1,600 winner at the Meet of Champions last spring, and Delbarton junior Collin Boler, put the race away with a 2:01.6 final 800 that was capped off with 59.9 final 400.
Brosnan's quick pace set this up to be one of the fastest races in meet history as Boler was second in 4:11.04, the No. 3 time in meet history, and Rakitis placed third in a Gloucester County record 4:12.55, No. 8 in meet history.
Brosnan became the only double winner in the boys competition when he came back later to split 1:54.9 on the anchor leg to bring Union Catholic across the line first in the 4×800 in 7:57.36, No. 5 in meet history, No. 2 in NJ this season, and the 10th fastest time in the U.S. this winter.
Sophomore Alex Saldana (2:04.9), senior Myles Plummer (1:56.9), junior Caudell Cajuste (1:59.9), ran the first three legs for Union Catholic.
QUEEN OF THE QUARTER 
It's hard sometimes for Julia Jackson to comprehend where she was a few years and where she is now.
"Freshman me would be in awe of what I am doing now," said Jackson.
Jackson, who took up track as a freshman at SPF just as a way to improve her fitness level for soccer, instead transformed herself into one of the greatest 400 runners in state history, which blows her mind.
Jackson proved her greatness again on Saturday with a wire-to-wire win in the 400m in 56.29, and splitting 57.4 as the anchor on the winning 4×400 relay that dropped its NJ No. 1 time down to 3:57.04, which is No. 16 nationally.
Jackson, the first girl from Scotch Plains-Fanwood to ever win an indoor M of C title, now has four M of C gold medals in her career. She also won the 400 and anchored the winning 4×400 at the M of C last spring.
The Duke-bound Jackson knows after what she did last spring and after running a NJ No. 4 all-time 54.08 to win the Eastern title last Tuesday, that she has a bullseye on her back whenever she races. But she has a way of dealing with that.
"There is a lot of pressure, but I just always run like there is always someone right on me," said Jackson. "That keeps me focused on running my fastest."
In the 4×400, Jackson shared the baton with senior Grace Kennedy (58.5), Danielle Most (62.5), and Jenai Berry (58.7).
FINALLY
Winning a M of C title has been a goal for Christiana Nwachuku of Kent Place for a long time.
It almost happened in 2020 at Ocean Breeze when she finished second in the 55 dash at the M of C. Then last spring, she nearly pulled it off again, finishing third in the 200 and fourth in the 100 at the outdoor M of C in South Plainfield.
Knowing she was running out of opportunities to fulfill her dream, Nwachuku, now a senior, took advantage of her latest chance when she overpowered the field with a dominating victory in 7.02 in the 55 dash.
"I finally did it," said the UPenn-bound Nwachuku,  who lowered her the state leading time to 6.95 to win the Eastern title last Tuesday. "I've always wanted to be a Meet of Champions winner. This is such a great moment for me."
ALEXANDRA THE GREAT
Union Catholic junior Alexandra Bonn soared a personal best 37-2 1/2 on her first attempt to win the girls triple jump. Bonn, who also placed sixth in the long jump, is now tied for the state lead in the triple jump.